ARTICLES
We are accepting articles and photos of failure cases from members. Selected articles and photos will be published by ASF.
How to join ASF
Request membership
|
ASF sends instructions
|
Make payment
|
ASF notifies password
Tokyo, Japan -- May 12 -- The fourth "Informal Gathering of the Members of ASF" took place in Nakano-ku, Tokyo. After the 33 members in the meeting went around introducing themselves, the gathering quickly decided to name itself the "Study of Failure Research Group". Kenji Iino, a vice-chair of the association, explained some plans for the year 2003. One of the big plans include editing an annual report. The association solicits volunteers from the members to start gathering news for major failure events and accidents to they can edit articles for the report. The association plans to publish the report in a printed form.


| | |
| --- | --- |
| Mr. Ritsuo Yoshioka, member, then presented his studies of the book "SAFEWARE" by Prof. Nanacy G. Levenson of MIT. He titled his talks "Why Do Accidents Happen? - The Root Cause of Accidents." He listed the three factors of accidents, direct, environmental, and root. The root cause then further subdivides into lack of safety awareness, poor organizational structure, and lack of technical activities. Mr. Yoshioka's talk focused on the lack of safety awareness. "Pursuing profitability leads us to accidents, however, there is no limit to how much safety measures we can implement and an overkill forces us to lose profit," said Mr. Yoshioka, "we need to balance the two in following the business path." | |


Mr. Haruhiko Higuchi gave the second presentation, titled "The threat and countermeasure to inside whistle blowing." He listed ten cases of past examples and how the society is trying to define ways to protect those that report corporate and organizational wrong doings from the inside. The profound analysis and detail information on the backgound and motivation that led the groups to end up in criminal actions were much appreciated by the members.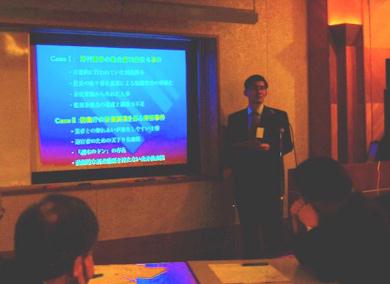 Mr. Higuchi presenting his studies